Space Heaters Need Their Space.
2/7/2018 (Permalink)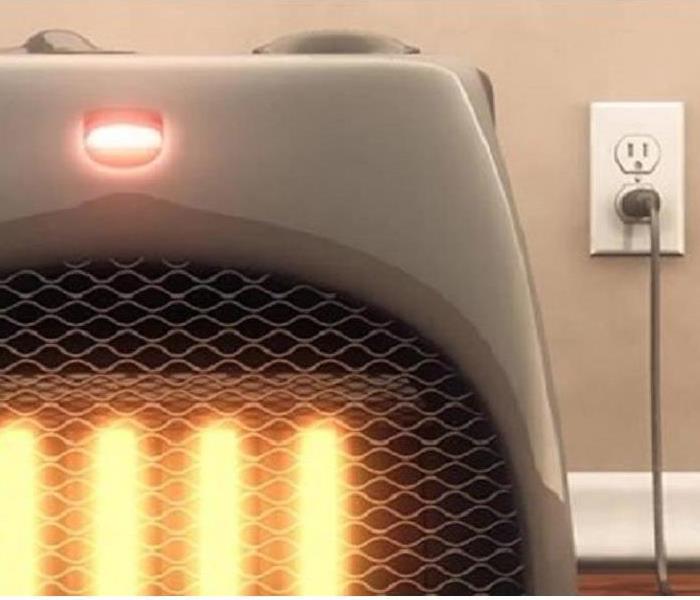 During the winters months, many people have the mind set that keeping the overall home or office temperature lower while adding space heaters will save money. Whether that makes fiscal sense depends on several variables. The one thing that does not vary though, is that space heaters, when not used properly can be dangerous.
Space heaters should be kept at a minimum distance of three feet but often are used near beds or under desks, altogether too close to fabrics, papers or other flammable materials. Not considering this hazard can lead to unexpected fires that spread quickly.
Keeping these tips from DIY Network in mind can avoid potential tragedies:
No matter what type or brand of space heater you opt to use, follow these safety tips from the NFPA to reduce the chances of fires and injury:
Keep anything that can burn, including bedding, furniture, and curtains at least 3 feet away from a space heater.
Have a three-foot "kid-free zone" around space heaters and never use a space heater in a child's bedroom.
Run power cords on top of carpet and step over them to avoid abrading the cord. Do not use extension cords.
Turn off space heaters when going to bed or leaving a room.
Don't use a space heater in a damp or wet area unless it's specifically made for that purpose.
Turn space heaters off before leaving the room or going to bed.
Never put a space heater on a countertop unless it's specifically designed for it.
Install smoke and carbon monoxide alarms and test monthly.
Only purchase "UL Listed" heaters which display the UL mark on their label. This is an independent organization which tests for safety.
Don't use gas- or oil-burning space heaters indoors, only outdoors or in spaces open to the outdoors like tents or porches.
Read and follow all manufacturer's directions for your space heater.
We are always here to help. Although we are in the clean-up business, we would rather see you avoid the crisis. In the event you do need fire-damage restoration, we will treat your home as if it's our own.